emro differentiates its values by providing total solutions covering consulting, customization, cloud service, global web standard platforms and software and components.
Consulting
emro provides a complete consulting service that optimizes the procurement value chain.
1Diagnosis for Procurement Innovation
Through diagnoses of current strategies, processes, organization structure and systems, required innovations are presented based on the innovation roadmap and relevant investment strategies
2ISP
Through enterprise-scale diagnosis based on relevant data, the ISP orientation and strategies are prepared from multiple perspectives; business-driven IT strategy, general and data usages, IT management, infrastructure and architecture.
3Procurement PI
Detailed processes and action plans are derived to optimize the value chain in terms of strategy, rules, functionality and process.
4SRM
The framework for executing partnership strategies is to be established by SG-oriented partner management strategies and the detailed measures are to be formulated by SGs to increase the competitiveness of the supplier network from diverse perspectives including optimal assessment system, differential treatment/management and operational processes.
5Managing Standards
Strategies and action plans are formulated for enterprise-scale data integration and management with suggestions to establish and standardize the classifications, attributes, identifiers and/or markings.
System Implementation
emro provides procurement SCM, quality and industry-specialized solutions to help organizations in diverse industries optimize the entire value chain including procurement, strategy, development, and collaboration.
Solution-Based Customized System Implementation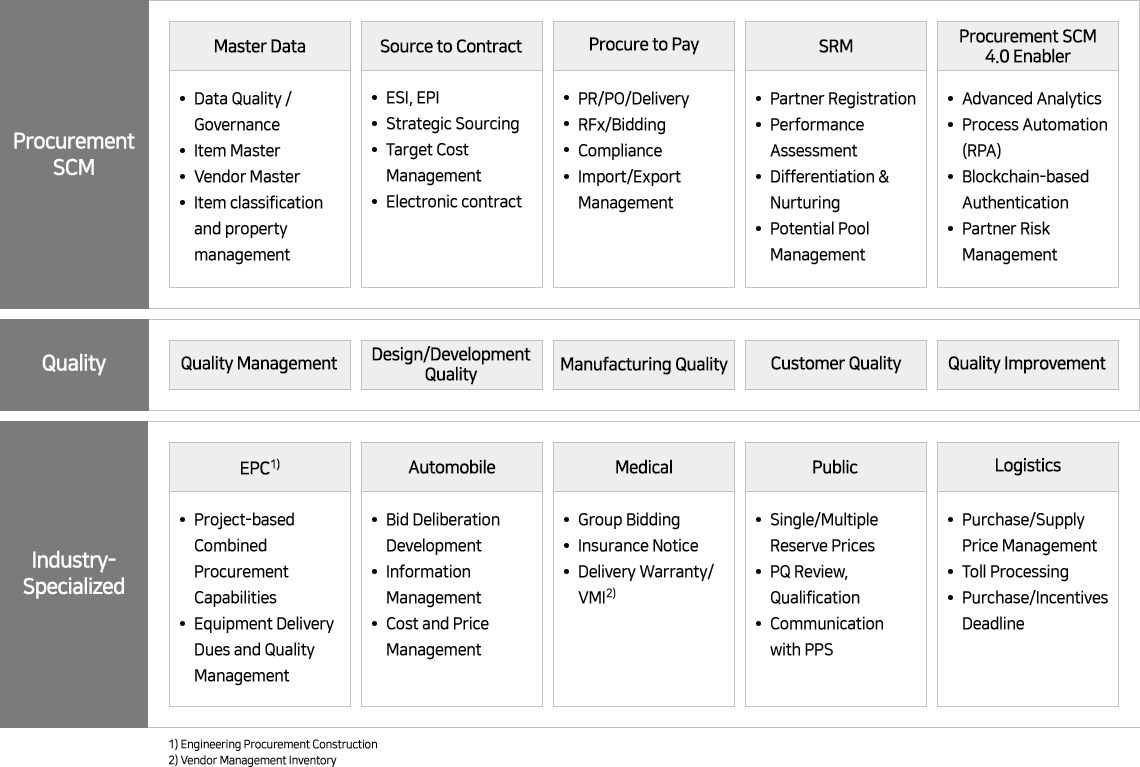 Combining emro's expertise and know-how in the procurement solution business, emroCloud is a cloud-based service specializing in indirect procurement that provides verified vender pools with readily available procurement catalogs.
emroCloud Key Functionalities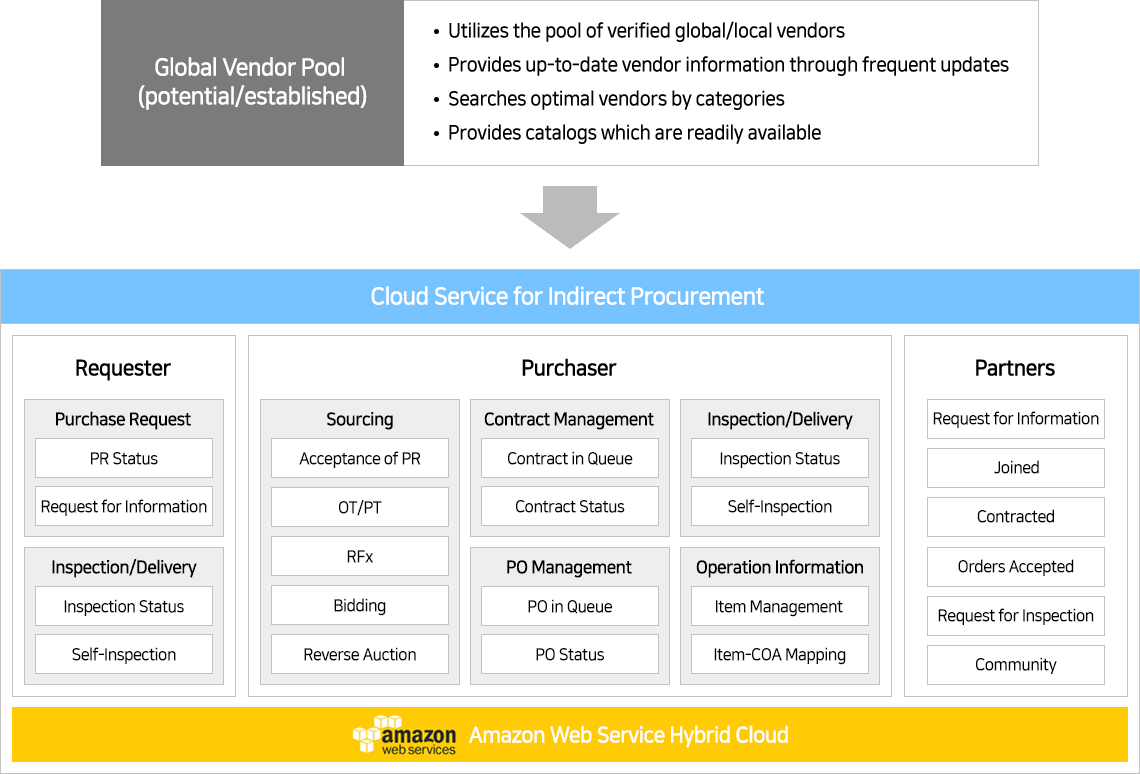 Key Features
Service with Global Best Practices
Provides strategies for selecting optimal processes and vendors by items
Provides global vendor pool
Increased Visibility,
Transparency and Compliance
Provides visibility of category-specific performances and supports strategic decisions
Cloud-based Service Platform
Stable operation and high-quality service
Minimized time and cost for implementation
HTML5 Web Component
The next generation web standard high performance data grid provides a web-based data grid for both wired and wireless uses. The performance is equivalent to that of Excel and the charting and reporting components are also available to create various reports that are rich in context.
Web Standard Platform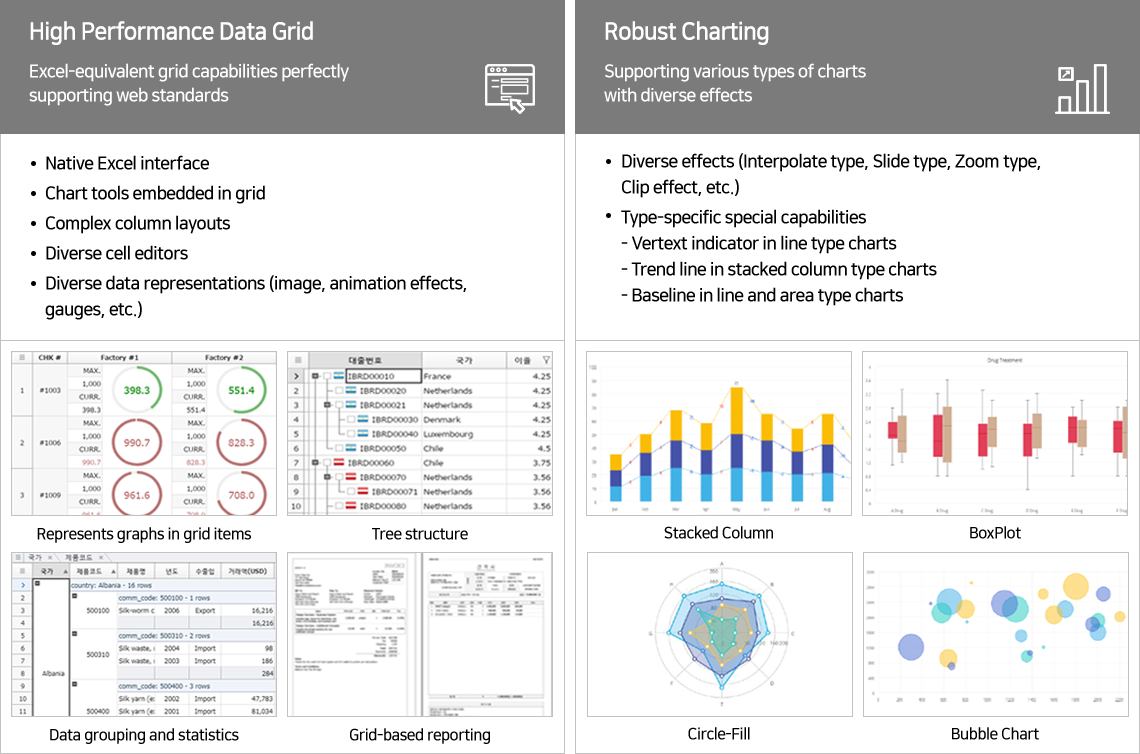 Go to SMARTdatagrid Site
HTML5 Web Framework
Provides work-friendly environment with maximized usability enabled by SMARTframework and improves the system utilization and the work productivity
Web Standard Framework